At the end of January 2009, I fulfilled a long-held desire to visit West Africa, having been drawn to African music in general for many years. It started in 1973 when I was turned on to an album called Musique de Burundi (Barclay Records, 1971) that made me want to discover more. Now, at the invitation of my daughter Gillian, who in 2008 had been to the Festival In The Desert (not far from Timbuktu) we traveled to Mali together. This time however, amongst other things, we were there to attend the Segou Music Festival – the Festival Sur Le Niger 2009.
Flying from London via Paris, our first port of call is the Malian capital Bamako where we are due to stay overnight in the apartment of Gillian's friend Ousmane, who kindly meets us at the airport. Later, in the warm, bustling evening we venture out to sample some of the nightlife of the city. After a simple, satisfying meal of meat and rice at a street restaurant we venture into one of several dance clubs in the area. It is dark, rough and smoky, though not in the least bit intimidating. A band is playing loud frenetic music propelled by an insistent talking drum and impassioned vocals. There is no stage, band and audience are one and most are dancing. After a few beers we leave to get some needed sleep.
Having arrived the previous night, the day dawns brightly and I have my first real look at the city. The street where we are staying is not paved in any way and consists of mostly red dust. Children play, people stroll past; it is a warm, blue-skied Sunday morning. After a cup or two of thick strong tea, the sound of drums draws us out to observe a street spectacle. Five men in tribal costume are doing their show, apparently for us (and inevitably a small donation). It is rather frightening; two men on drums are beating a mad rhythm and three dancers execute a menacing routine featuring extremely sharp knives with which they pretend to slash their bodies and insert the tips into mouths, noses and, even more alarmingly, eyes. Is this what I am to expect from this country? Fortunately, it turns out to be only an elaborate show put on for tourists like us.
In the drowsy afternoon we have a look around the city and amble through the textile museum. Our plan to catch the bus to Segou that evening is thwarted when we arrive at the bus station only to find the last bus has been cancelled due to a lack of customers. Fortunately, Ousmane agrees to drive us. It is a hectic, bumpy four-hour ride through the unfamiliar night, past busy, fire-lit villages dotted along a road characterized by numerous speed bumps that loom suddenly out of the darkness with little warning. Not to mention the oncoming traffic.
We arrive in Segou towards midnight and quaff a welcome beer in an all but deserted restaurant. For an audience of five or six stragglers an impromptu jam is happening with a local band and I have my first taste of the magic of the African instruments; the ngoni, balafon, djembe and kora.
Where Bamako is a sprawling metropolis, with its traffic, its business and its stress, Segou is a relatively peaceful town taking its spirit from the tranquility of the River Niger on whose banks it nestles. Anyone who might have health concerns about drinking water this part of the world should know that it is reasonably safe. Although it is heavily chlorinated, at a push you could drink from a tap – if you can find one. Nevertheless, spoiled as we are, we stuck to bottled water, which can be obtained anywhere.
Since our arrival was several days before the actual festival we have time to explore. The first impression is one of red dust. Hardly any of the streets are paved in any way and the dust is a constant backdrop to life. It pervades everything, a reminder that I am somewhere entirely different.
We stay at L'Auberge, a decent hotel (one that actually has soap, toilet paper and hot water – something that later would be a luxury). On waking next morning I am totally taken aback to leave the quiet compound where the rooms are situated, to be confronted by a scene straight out of a movie. It is Monday – market day – and the hitherto quiet streets are now a riot of colour and movement, people everywhere and all busy moving, buying, selling, talking. I wander around like the bemused tourist that I am, dodging the carts pulled by recalcitrant donkeys, rainbow clad women with huge packages balanced effortlessly on their erect heads, children with runny noses laughing, stall holders announcing their wares, men on motorcycles weaving through it all, and the general hubbub of people intent on making a living. Everyone is friendly and many are happy to come up and start a conversation. The sun is hot and the dust is everywhere.
The next day a guide called Ibraham takes us over the Niger to a Bozo village on the opposite bank. The Bozo people date back thousands of years and this part of Mali is their home. The crossing is by pirogue, a long, flat-bottomed boat that glides effortlessly through the calm, green water – a river that thinks it's a lake. We are lucky to get our own boat; some boats are crammed with people. It is a calm, relaxing trip and as we approach the village, the sounds of Segou surrender to the peace and pace of life in the village. The mud brick buildings are of the same simple design and colour. Fascinated children run eagerly to hold our hands and stare, happy to be next to these white aliens. Smiles are everywhere and again we are captivated by the friendliness of the people. Although the main language is Bambara, French is the language that gets us by, well, not me so much. Fishing is the main occupation; nets, traps and pirogue construction are to be seen dotted around.
As the day drifts hazily towards evening we walk along the deserted bank to the next village, which is comparatively thrumming with activity. Here, the main emphasis seems to be on wood, gathered in huge piles to be transported across the river and sold as firewood for the ubiquitous open ovens that serve as the hub of every family. The sun sets as we return to Segou across the beautiful Niger, a tranquil moment savoured. It's difficult for a photograph to convey the warm, contented sigh of departing day as it lingers a long moment before quietly slipping away, but it tries hard.
A trip to Djenné is next and to that end Gillian has retained a guide called Sidiki and a driver to get us there, about a five-hour drive. We are blessed to have an old but reliable Mercedes which navigates us through the vast, flat landscape punctuated with numerous hamlets and villages where bright, smiling teenagers gather around the car whenever we stop, offering souvenirs, jewelry, water, snacks, etc. After crossing a river by an ancient ferry we get to the old town of Djenné, whose famous landmark is a mosque built from mud. After lunch we walk around this amazing building. Not being Muslims denies us entry of course, but we wander round the perimeter and marvel at the construction of the place, which has to be annually maintained by hand, using the centuries-old method of fusing mud, straw and wood.
The city of Mopti is not far away so we leave Djenné and drive there to spend the night. The hotel is built from old metal sea-containers and looks dauntingly like a prison, not that I would know, but it is comfortable enough, even if rooms are disturbingly furnished with a… let's call it bold, colour scheme; the diametric opposite of coordinated. Even that is not enough to deny us a good night's sleep.
The morning offers the opportunity to explore the port of Mopti, situated at the confluence of the Niger and Bani rivers. It is a crammed, thriving city of noises, smells, and industry. The business of making a living is everywhere and we investigate the back streets, the food market, the docks. Everything is used and re-used; scrap metal from old cars is hammered into nails and fishhooks and anything that can grow in the surrounding harsh land is harvested, bundled and sold.
The small town of Sévaré is short drive from Mopti and we pause there to share lunch with a friend of Gillian's, Kay and her husband Amadou, who run a delightful hotel there. The late afternoon sees us heading back to Segou, to enjoy our last night in the hotel; the festival starts tomorrow and all the hotels are fully booked so we will have to move to different lodgings.
With help from Gillian's friend Malika, a room is found in a boarding house, a kilometer or so along the broad bank of the Niger. We share toilet and shower facilities with the half dozen or so fellow residents. There is no hot water, soap or toilet paper and the door is a ragged piece of curtain but we quickly learn to adapt and in fact enjoy the place, not dissimilar to a hippy commune. One of the pleasures is breakfast – instant coffee in whatever dish can be swilled out in the tiny kitchen, and beignets (dough cooked in an iron tray over an open fire and sprinkled with sugar – delicious) bought from any number of women cooking in the streets nearby.
It is the first day of the festival and the town is now abuzz with markets, security personnel, families and a sprinkling of tourists. The afternoon sound check is chaos, the engineer seemingly oblivious to the incessant feedback and unbalanced voices. I wonder if anyone else notices. The stage is a large barge on the water anchored next to a sloping wharf of stones where the audience will sit. Further back are the seats for the more affluent. We sit on the stones.
The opening ceremony takes up a chunk of time. The King, surrounded by his retinue, sits imperially on the stage and accepts gifts and tributes from various neighbouring tribes and villages. A succession of troupes, some having crossed the Niger in an armada of fire-lit pirogues, arrive out of the darkness accompanied by drummers beating rhythm, and make a slow, dancing march towards the stage where they pay their respects to the king, who all but ignores them. His Majesty is dressed in a huge flowing, white robe and periodically flicks his ceremonial fly swat – his version of the royal wave I suppose. He smiles not once, despite all the energetic supplications before him. In fact he looks rather bored by the whole parade, which is not too far from how we feel at this point. As strange and intriguing as it is, where's the music we came to see? We've been sitting on the uneven stones for hours and although we have a good view it is a bit tough on the old posterior. The crowd cheerful jostles for legroom but everyone is polite and shares their space, apologizing if they invade yours.
Finally we get music. Super Biton take the stage and sound great. Someone must have had a word in the soundman's questionable ears. Cramped legs and aching bums are forgotten. Next on is an incongruous Mexican band called Marimbo; four people playing one giant marimba and executing some deft musicianship and inventive arrangements. I wonder how the people will take to this but the band is great, humorous and entertaining, and is given due respect.
The highlight of the evening is Bassekou Kouyaté, effortlessly coaxing wonderful sounds from his ngoni. His stage presence is compelling – tall, good looking, dignified and wearing a long flowing robe, he strides the stage while the band groove convincingly with him. The legendary Abdoulaye Diabaté and Mamou Thiero provide the vocals.
An exhausting first festival day but we are happy.
The following morning, the Mexicans give a great performance at a smaller stage not for from the main stage.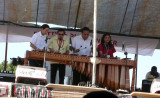 I have no photographs of the main festival; I was capturing what I could on my camcorder, mainly because I wanted to hear the music and capture the atmosphere. Over the next couple of days, we see some great bands but also some not-so-great sets. To list every band would be tedious but some of the standouts are Vieux Farka, son of the legendary Ali Farka Toure, who impresses with his blues guitar; the infectious reggae sounds of Oumar Koita; Mamadou Diabaté; Coumba Gawlo, and one of the highlights for Gillian especially… Oumou Sangaré, a commanding presence and an apt closing performer, who, with her powerful, confident voice enchants all.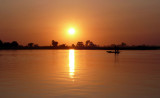 Gillian is staying and traveling on to Senegal for a few weeks but I have to get back to another reality. It is a sad day when I take the five-hour overcrowded bus ride to Bamako for the flight to England, a story in itself because little did I know that snow had closed Heathrow and a tube strike had disrupted everybody. I am obliged to catch Eurostar from Paris (carrying a rucksack, more luggage, two shoulder bags and a drum – of course I had to buy a drum!) and I am lucky to get where I'm going although it takes the best part of twenty four hours.
The time spent in Mali with Gillian was a joyous one and an adventure for both of us – a memory that will not fade.
Good luck,
RG